Success Stories - Hunter on the Hunt
Scott Hunter
Hunter on the Hunt Corp.
Monroe, MI
When Scott Hunter began as an Independent Contractor for FedEx five (5) years ago, he wasn't sure where to turn for help to get his business off the ground. With no longevity on the job and credit that wasn't yet established, he says Bush Truck Leasing was there as a partner. "Bush Truck Leasing helped me get on my feet when nobody else would," states Hunter. "The other companies were tightening requirements and didn't want to deal with a start-up like me. From the start, Bush understood me and has helped my business and that's earned my loyalty."
How's it going now ? After 5 years, Scott has 5 PSAs and 7 trucks including a paid off P1000, a P1200 with 2 years equity paid into it and an assumed P700 which, as Scott says, "was a real simple process!" He's also adding a brand new Freightliner P1200 to the fleet. "At Bush, Woody has been great to work with and Katina has gone above-and-beyond more than once to help me out. That's a big part of where my loyalty comes from."
Read More Success Stories
Search our inventory
Whether you know exactly what you want, or need to find the perfect truck, search our inventory of trucks!

See More ›
Contact Us
Contact us to get more information on financing, services...or if you have a general question. We're always happy to help!
See More ›
Bush Trucks Services
Bush Trucks offers a complete range of services including maintenance programs, truck insurance and health benefits.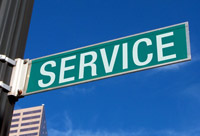 See More ›