NEW FORD CUTAWAY - 16'
This FedEx Ford cutaway offers almost 800 cu ft of cargo space and is built on an E-350 chassis. This adaptable truck, like the P700, can be used to cover both FedEx Home and FedEx Ground routes. It offers 2 rows of shelving on each side that you can fold-up to accomodate your cargo requirements. And its bulkhead walkthrough door combined with a passenger side door make getting to your cargo area easy and efficient. This truck also available with 12' body and 14' body and 18' body length. Give us a call @ 1-800-200-0404 or simply click below to get a quote. Bush Truck Leasing is proud to support the success of your business in Peak Season and beyond.

KEY FEATURES & SPECIFICATIONS
5.4L V8 gas engine

5-speed automatic transmission

40 gallon fuel tank

4.10 axle ratio

176" wheelbase

Cab air conditioning

Cruise control & tilt steering wheel

Driver & passenger airbag

AM/FM stereo

Rear wheel drive

Gray interior color

Vinyl interior

Full walk-through w/locking bulkhead door

2 rows of fold-up shelving each side

Backup camera w/monitor

Curbside swing door w/grabhandle

Curbside stepwell w/diamond plate

Translucent roof

Cargo area dome lighting

Roll up rear door w/secure locks & inside release

Full width step bumper w/grab handles each side

Fire extinguisher & first aid kit

Hazard triangles

Daytime running lights

Full Factory Warranty
GREAT WARRANTY COVERAGE
Basic Warranty: 3 YEARS / 36,000 MILES
Powertrain Warranty: 5 YEARS / 60,000 MILES
Corrosion Warranty: 5 YEARS / UNLIMITED MILES
Roadside Assistance: 5 YEARS / 60,000 MILES
Note: 5 YEARS /50,000 MILE warranty on safety restraints, including airbags
* 16' body with passenger side door built on a Ford E350 chassis
* Roll-up rear door with full width step bumper and backup safety camera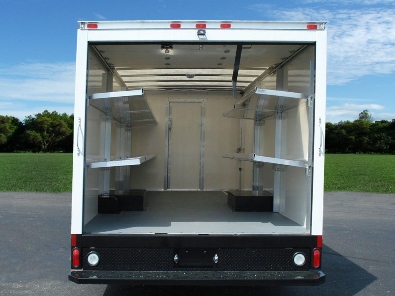 * Two rows of full length shelving with translucent roof and cargo area dome lighting
* Foldup shelving for optimized cargo capacity and bulkhead walkthrough
Give us a call @ 1-800-200-0404 or simply click below to get a quote. Thank you for the opportunity to support the success of your business !

What the Truck ?!
Sometimes you see things out on the road that make you say...

See More ›